---
I was pretty much shaken up after watching documentaries such as 'The Social dilemma' and 'The Great Hack'. Not that I was completely blind to it, but they were definitely a trigger to re-evaluate how I consume information on the internet.
Because I was (I still am) in the process of studying privacy issues and respective solutions as a common person, I was always confused about where to start from.
Restarting your entire digital life, creating a fresh identity, and being anonymous (almost) was a challenge for me initially. I knew by now that being anonymous on the internet is next to impossible. But I wanted to try whatever I could to protect myself and my identity online.
I was okay to share personal things about my life at my will, but I was being paranoid after knowing how much information is collected about me while I'm connected to the digital world without my knowledge. It is almost next to impossible for a common person to even imagine the dark side of the internet.
If you are still in doubt, find out why you should stop using Google Chrome browser.
As they say, if you are lost in forest, you don't know how to find your way out, but you at least know your next step, take it. You will eventually get out.
That's exactly what I tried doing. I started with changing my internet browser, Google Chrome, my first window to the world of the internet.
My research was based on the following criteria to choose the best browser for my needs:
Privacy: This was the main reason for this exercise, right? So, it was the topmost priority for me. When it comes to privacy, the only expectation you can have from the browser of your choice is that the browser itself should not track you.
User Experience: I wanted to have the exact same user experience (well, almost) without any need of learning to operate the new browser from scratch.
Features: More or the less the same list of features, which I use on a day-to-day basis.
Sync: Must-have features, where I should be able to sync bookmarks, extensions, passwords, etc. on the cloud, so that I can have the same experience across platforms and devices e.g. Microsoft Windows Desktop, Macbook, Android phone, and iPhone.
The first thing I did is search for the privacy-focused browsers for Desktops & MacBooks (I actually use both for different purposes). The good thing was that there are not too many options out there. I could only find the following list of browsers, which I wanted to research further.
Then, I applied the elimination technique based on my selection criteria to eliminate each browser one-by-one until I was left with only one.
Let's look into each of these browsers and the reasons why I decided to eliminate them.
Technically speaking, every internet browser requires one key component called "Rendering Engine". It is responsible for displaying the information (text, images, videos, etc.) in the browser window.
Every rendering engine behaves differently and therefore processes and renders information differently. I wanted to go with a Chromium-based browser to have the exact same user experience as the Google Chrome browser.
Mozilla Firefox browser uses Gecko rendering engine, which works fine, but is different than any chromium-based browser.
Chromium is a free and open-source web browser project, principally developed and maintained by Google. So, when any organization starts building a web browser, they usually pick up the open-source code-base and make changes to it as needed. Companies remove the tracking features from the Chromium browser (if there are any) but keep the core engine AS-IS because there is no need to change the core engine responsible for displaying content onto your screen.
This is a very common aspect of any privacy-focused browser today. There is no need to reinvent the wheel from scratch. Because this is open-source, researchers, critics, analysts, and technical experts can verify and validate the authenticity of the code anytime.
So, because Mozilla Firefox doesn't use Chromium rendering engine, some of the key websites which I use on regular basis didn't work as I expected them to be. However, the same websites work fine in other chromium-based browsers.
That is what I meant by not losing on the user experience. To maintain the same experience, even if I change my browser, I had to ditch Mozilla Firefox. Although, it is one of the best privacy-focused browsers out there.
Based on my research and longtime use of Mozilla Firefox, I couldn't find any other reason why I should not use it.
TOR stands for The Onion Router. It is a chromium-based browser. Frankly speaking, it is not meant for ordinary users like you and me. So ignore it totally.
I do not want to go into a lot of technical details of onion routing technology which is meant for anonymous communication over the internet. It is primarily meant for people like activists, journalists, and whistleblowers, but not meant for ordinary users. Due to its technological limitations of onion routing, it is a very slow browser and you will end up with a lot of troubles while using this browser. Technical experts and geeky people might still want to use this browser, but it is not recommended and suitable browser for usual and day-to-day browsing needs.
Vivaldi is another chromium-based browser. It could be one of the great browsers for privacy-conscientious users and it is great actually, but not for me. As I have mentioned earlier, I didn't want to change my user behavior. I didn't want to go on a learning spree to get myself familiar with how to use a new browser.
In addition to privacy, this browser comes with lots of new and advanced features, which did not fit my need for day-to-day use.
If you start using Vivaldi once, get acclimatized with its feature set, and are familiar with how to use this new browser, there is no way you can switch to another browser. Because no other browser provides loads of features provided by Vivaldi.
So, if you are ready to spend some time learning how to use your new browser and also want to use all the new features provided by Vivaldi, it has all the potential to become your choice of browser.
It is not just the learning curve, but I also didn't want to create a dependency on a new browser I cannot live without, because there is no alternative. What if, due to some reason, I do not want to continue using Vivaldi, I got used to its features so much, I have no other choice available. At least not today. Its key selling point of being too feature-rich became the biggest turn-off for me.
Epic browser is also a chromium-based browser. However, it is a very immature browser for now. Looking at this browser and using it for some time you get the feeling that there is a long road for Epic to become a mainstream browser of choice for an ordinary user base.
Every privacy-focused browser tried to do something different than the other browsers. Tor implements onion routing for anonymous communication, Vivaldi wanted to be feature-rich and added features no one had thought before.
Similarly, Epic comes with a built-in Virtual Private Network (VPN) to protect your browsing history from your Internet Service Provider (ISP) & other data collectors. Because it has a built-in VPN feature, it can also secure your communication on public wi-fi.
Though it is a separate topic of discussion, I just wanted to highlight that when it comes to using a Virtual Private Network (VPN) software, I can't trust anyone and everyone, that too when it is totally free-of-cost. Security protection offered by VPNs is a costly affair to implement and I believe that it cannot be provided free of cost.
In addition to using a secure and privacy-focused browser, if you are interested to know more about VPN services, you can read my other post here.
So, Epic is a privacy-focused browser with a very basic set of features, therefore doesn't work if you are too much used to the Google Chrome browser.
Using Google Chrome as your browser for so many years becomes an addiction. Just like smoking. If you plan to quit, the first thing you need to ensure is that you don't go back to it again. Otherwise, the entire effort will go down the drain.
So, if you chose Epic as a choice of browser (even though it has a built-in VPN), it is so basic that eventually, you will want to go back to your favorite browser, Google Chrome. You should ignore Epic completely
Finally comes the browser of my choice. I intentionally kept it for the last. I'm using Brave for more than three years now and I'm totally into it.
It gave me everything I needed after being a user of Google Chrome for so many years. It was not easy to break up with Google Chrome, but Brave made it so much easy that I never missed Google Chrome. Not even once.
Browser-Extensions
Just like all the other browsers, I have mentioned here (except Mozilla Firefox) Brave is also a chromium-based browser. The biggest benefit of that is that you can use all the browser extensions you use with Google Chrome.
Sync across Devices
Now Brave is available on all your devices, which includes your Windows Desktop, Apple MacBook, iPhone/iPad, and Android phone.
Brave has also launched a cloud-based sync feature now so that all your browser settings, history, bookmarks, passwords can be synced across devices. The good part is that you don't need to create an account with Brave for sync. It gives you a unique code, which you can use anywhere and everywhere for this purpose. Instead of maintaining another account, you just need to keep this code safe.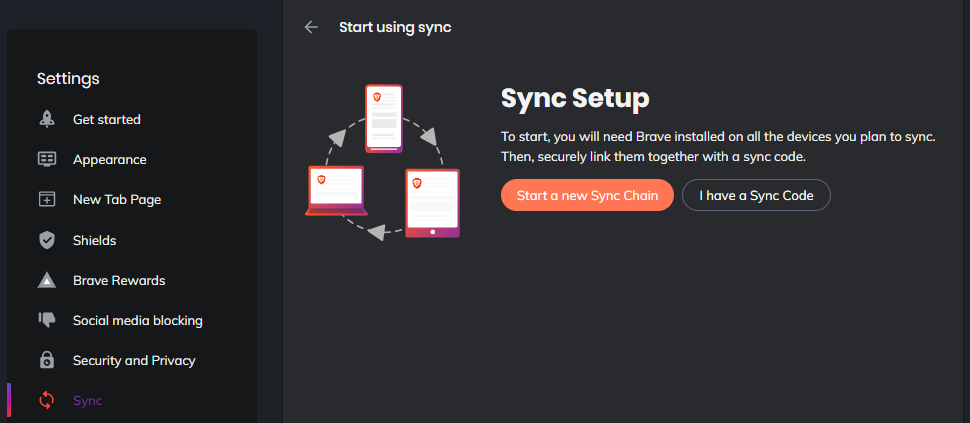 ---
Word of Caution: If you are concerned about your privacy, you shouldn't sync across devices. There are other ways of managing your bookmarks or passwords. But, we will talk about that in detail some other time. If you can't wait till then, then just connect with me and I will share some tips.
This whole connected device or connected experience is one of the biggest killers for privacy. Privacy is not just about your location data, personal preferences, interests, or behavioral patterns.
But, let's keep it simple for now.
---
Other Mentions
I just wanted to highlight two more browsers in the list and why they were not considered in the main list.
Microsoft Edge
Microsoft simply can't do it for the users like you and me. Their strategy for the internet browser is not clear to themselves.
They were using Internet Explorer for so many years. They couldn't compete with Google Chrome. Google Chrome's huge extension library was the biggest challenge for Microsoft Internet Explorer.
Chrome browser, along with Google Search Engine, is the bread & butter for Google being the world's biggest, unbeatable Advertising Company (Yes, you read it right. Google is not a search engine company). It was not possible for Microsoft to focus enough on the small piece of their huge product "Microsoft Windows".
Then Microsoft decided to create a new baby Microsft Edge and in a very short span of time, even before that baby could grow enough, Microsoft decided to move to Chromium-based strategy and built another version of Edge browser, called Microsoft Edge (Chromium-based). Microsoft wanted to leverage the huge extension library of the Chrome browser.
Believe me, even after so many years Microsoft couldn't do it. It's not their bread & butter. It's not their core product. It is just a small part of their bigger (or biggest) product.
Just to add to this thought for the convincing purpose… though I might hurt the sentiments of Apple fans (please don't forget that I'm also the one, but a bit practical too at times), I want to apologize in advance. But can you imagine Apple Music ever beating Spotify in numbers? I personally feel, no, they can't. For Spotify, it is their core product. It is their bread & butter earner, right?
Safari
How can I not mention Safari, but there is only one thing I can say to sum up everything. It is not cross-device or cross-platform. I can only use it within the Apple Ecosystem. Unfortunately, that doesn't work for me, because I have devices of all types.
Conclusion
My first recommendation will be to use Brave as your choice of a privacy-focused browser, because of its closest similarity to Google Chrome in terms of functionality and features.
The second recommendation would be Mozilla Firefox, only if you want to stay away from Chromium-based browsers. Firefox has its own exhaustive extensions library and you will hardly find any extension missing from the list, which you used to use in Chrome.
Last but not least is feature-rich Vivaldi. You have to learn a few things from scratch though and a lot of new features. For me, it was a little bit overwhelming, because I was looking for nothing more than Chrome, so I decided to ignore it.
Well, no matter which browser you decide to give a try, never forget to change the default search engine. Never ever use Google Search Engine. There is no way for your browser to protect your privacy if you end up using Google as your search engine.
Again, there is a long list of privacy-focused search engines as well. A few of them worth mentioning are DuchDuckGo, Qwant, StartPage, and Ecosia. But I will not complicate the matter right now. I would suggest sticking to DuckDuckGo as your search engine and you will do just fine. It's the most mature and closest competition to Google Search at this time. If you try others, then you will surely be disappointed with the search results. You may not be able to find what you are looking for easily.
You can read more about Google Chrome v/s Brave Browser.