---
Everyone is after your data, including your Internet Service Provider (ISP). You have figured out all the mechanisms of protecting your information online. But, can you protect your privacy from an Internet Service provider (ISP)?
You have started using the most secure and privacy-focused Brave browser.
You have also stopped using social media platforms.
Then, you have started using all the browser extensions possible to protect your online privacy.
You might have done a few other things as well.
You know what, you missed one thing, the most important one, your Internet Service Provider.
Disclosure: I only recommend products I would use myself and all opinions expressed here are my own. This post may contain affiliate links that at no additional cost to you, I may earn a small commission. Read full privacy policy here."
Everything goes through Your ISP
Everything you do online goes through your Internet Service Provider. It includes every device connected to the internet. It may include:
Computer Devices (desktop, laptop, MacBooks, iPad)
Smartphones
Smart TVs
Alexa, Google, or Siri enabled Voice Recognition devices.
Media Servers or any other types of servers (if any)
Temperature Control Systems
Smart Fridge, Smart Washing Machines, Smart Dish Washer
Any Smart Home Devices including Lights and Fans.
Security Cameras or entire Security System
Well, this list can go on and on. Today, everything is connected to your home network and talks to the internet.
Your ISP Knows Everything
Your ISP knows everything you do online. Let me try to list it down one more time. Your Internet Service Provider knows:
Every website you visit
What you are doing on these websites
When you are watching a movie on Netflix
What exactly you browsing on your computers or moobile devices.
When you are playing games on your computer.
How many devices do you have and what kind.
What you are searching
Well, your passwords too, if you are on a non-secure website (non-HTTPS)
etc.
Your ISP knows everything.
Your ISP is the middleman between your device and the internet.
They are gatekeepers of the internet. So, it is their responsibility to follow government rules and regulations. If the Government has banned a specific website in your country, then it is ISPs' responsibility to keep it that way so that you cannot access it.
They are the bridge you have to cross if you want to access the internet.
Your ISP Sells Your Personal Information
Also, you pay them for providing you with the internet service. You have never agreed to share your personal information with them. They log everything. ISP can also decide for how long to maintain these logs. It can vary from 6 to 12 months or maybe more. It also depends on government policies. They can keep the entire history of every activity you perform on all your devices.
You have never agreed, and they never bothered to get consent from you, but they sell your information. ISPs sell it to advertisers, trackers, and aggregators. They make more money off your personal information besides the monthly bill you pay.
Can your ISP see your private browsing?
Private browsing is also known as incognito mode browsing. The most shocking misconception is the belief that private browsing is private. No, it's not. Though you are browsing in private, you are still browsing the internet. You still have to go through your ISP.
Incognito or private browsing option is for public computers. When you visit cyber cafes, you should use private browsing. If you use school or college library computers, you are supposed to be using private browsing. So, once you leave the public computer, the next person using the same computer will not be able to access any of your personal information.
People started using incognito browsing because it's private. They thought that no one would see what they do online. But, unfortunately, that is not the case. Your devices need to communicate with the internet service provider for browsing the internet. That is the only way for you to access the internet. There is no way to hide your activities from the Internet Service Provider.
Will Clearing My Search History Prevent My ISP from Spying on Me?
No, not all. You can only clear the search history from the computer you are using. You can't ask your Internet Service Provider to delete it at their side. It's not in your control. Plus, there are government regulations due to which they need to keep this history for months. This duration differs for each country.
So, if you delete the browsing history at your end, that doesn't mean that it has been deleted at your ISP's end as well.
Is ISP tracking Legal
The simple answer is YES. Certain things are legal. For example, maintain a log of visited websites for a specific duration. It is regulatory, and ISPs follow these requirements. Let's say, for National Security purposes. These rules differ from country to country.
But, ISPs may not require to keep the entire browsing logs, but they can if they want to. There is no law against controlling them not to do this.
Also, these days ISPs have gone one step ahead. Now they plant their version of cookies, called Supercookies.
What are Supercookies
Supercookies are spreading gradually and without being noticed. It is causing severe harm to privacy protection.
ISPs create and store them on their servers. So, you cannot even think of deleting them like any other cookies. ISPs generate a unique identifier for each device, called Unique Identifier Header (UIDH). It helps the ISP to track what each connected device is doing online.
I will not go into too much information and technical details for Supercookies. For a non-geeky person, it is enough to understand that supercookies are not in your control.
Does ISP sell my data?
Well, of course. A BIG YES. Otherwise, what is the point of collecting so much data about you? Your ISP is in the business of making money, and they will, by all means.
Is it even possible to protect yourself from these prying eyes of your ISP? Well, every coin has two sides. If there are problems, then there are solutions. Some solutions are easy to implement, some are not. Some solutions will protect your privacy.
Extreme solutions will even keep you completely anonymous on the internet. I know, being anonymous on the internet is almost next to impossible. But, it is possible. Besides using the tools required to protect your privacy, you also need to change your online behavior.
You cannot hide anything from your internet service provider. Can you?
Let us look at various things you can take care of to protect your privacy at different levels. You can pick and choose one, all, or any combination of recommended solutions to protect your privacy.
Steps to take to Protect Your Privacy From Your Internet Service Provider:
To hide some (not all) of your activities from your ISP, start using end-to-end encryption. Encryption is the one-stop solution for all privacy issues.
HTTPS Everywhere is the browser extension available for all browsers. It is an "Install & Forget" browser extension, and does its job in the background quietly.
This extension automatically upgrades your connection to secure communication using HTTPS.
2. Use Privacy-focused Browser: Brave
Brave browser is the most secure and private browser in 2022. You can see for yourself in the screenshots given below. You can find out how the Brave browser fairs against any other browsers.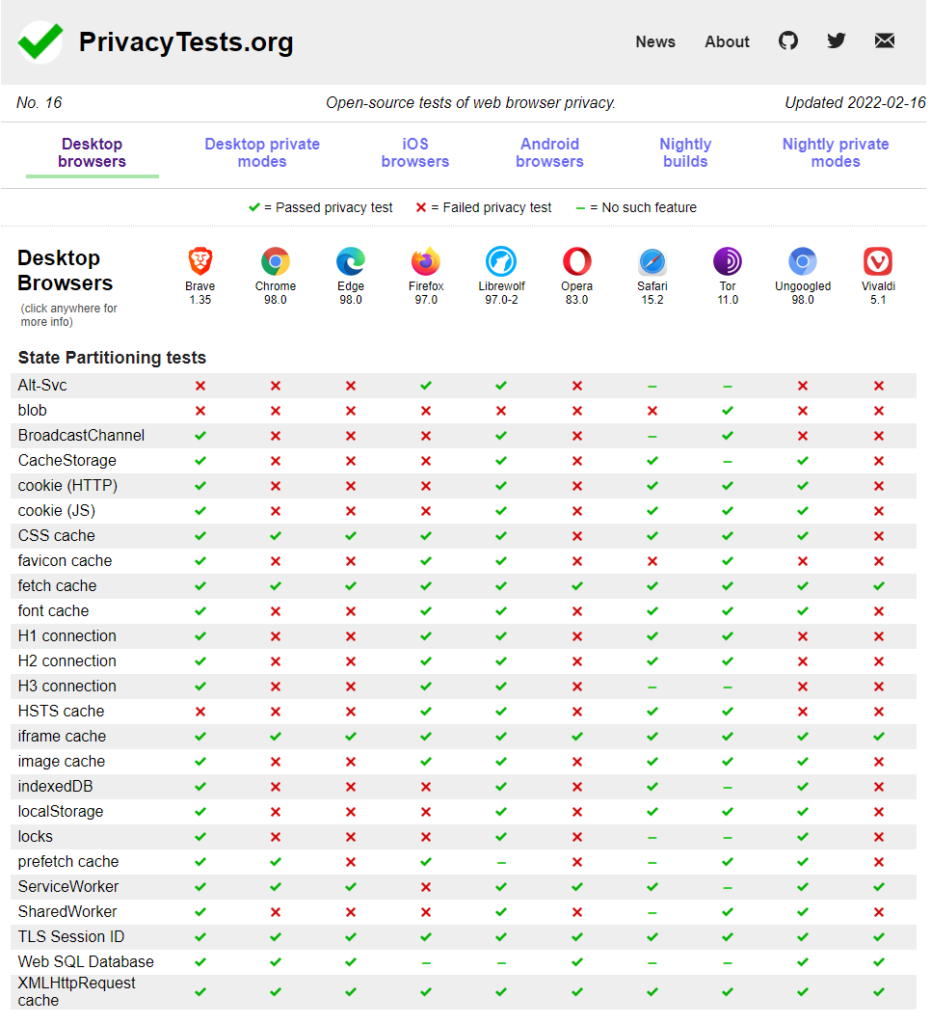 More detailed information is available at PrivacyTests.
Brave has built-in ads and trackers blocking features.
It has built-in HTTPS Everywhere and upgrades your connections to secure communication using HTTPS. You do not need to install HTTPS Everywhere explicitly on the Brave browser.
It allows you to change the DNS settings of your choice.
If you are using Brave with the HTTPS connection setting turned ON, your ISP will know what websites you are visiting, but it will not know what you are doing on these websites. Your ISP will not be able to read your passwords.
It is the least protection you can get by switching your browser from Chrome (or any other browser) to Brave.
If you want to know more about Brave, you can refer to why you need to use the Brave browser.
3. Use Secure & Privacy-focused DNS
Another thing you can do is use a secure Domain Name System (DNS).
What is DNS
DNS is a kind of telephone directory for all websites.
Your browser is nothing but a screen to the internet. It fetches the information and displays it on your screen. When you enter any website address in the address bar, it needs to find out where it is stored. Your browser needs to request this information from the DNS server.
Your browser goes to your ISP, your ISP queries DNS, and then passes on the address of the information to your browser. Then, your browser goes to that address to fetch the content to display onto your screen.
Using the privacy-focused DNS settings in your browser, you can force your browser not to go to the ISP. You are telling your browser to get the information from somewhere else.
You can follow the guidelines on how to change the DNS settings of your browser. Almost all browsers today provide this feature.
4. Browser Extensions
Besides other options given above, you can use various browser extensions to protect your privacy. I have provided the list of browser extensions everyone must use to protect their privacy online.
5. VPN
The final and best recommendation is to use Virtual Private Network. It is your best bet for hiding your activities from the Internet Service Provider. But, you need to shell out some money from your pocket to get this protection. It will be worth it.
You may want to understand more about VPNs and why everyone needs them more than ever before.
Besides, you can refer to the below recommendations if you plan to go with a VPN Service Providers. It might take some time to research and find the best one for your needs.
Before getting into VPN, you should also know about international intelligence-sharing agreements between 14 countries.
These countries are:
The United States
Canada
The United Kingdom
Australia
New Zealand
Denmark
France
Holland
Norway
Germany
Belgium
Italy
Sweden and
Spain.
Any normal person, like you and me, does not need to bother about 14 eyes countries unless you are an activist or whistleblower or involved in any illegal activities in your country. Like normal human beings, we are only trying to keep ourselves private from the prying eyes of Big Tech. We are fine with any VPN Service providers from any country.
Word of Caution: What do I mean by illegal is that torrenting of pirated content is an illegal activity in the US, but it is not in Switzerland. So, just as an example, if you want to download pirated copies of movies from the internet, you should look for a VPN service in Switzerland and not in the US.
Below are some of the best recommendations:
NordVPN is based out of Panama, which is outside of 14 eyes countries. Panama is not part of any intelligence-sharing Alliance, and the constitution protects all forms of expression. Residents have free and unrestricted access to the internet.
The law in Panama explicitly prohibits arbitrary government or police interference with privacy. Wiretaps and monitoring are not allowed without judicial approval.
NordVPN is the best choice when it comes to VPS. It is the fastest, with the maximum number of servers across various countries. I'm using NordVPN for my everyday work for almost 3 years now.
So, if you want to start with the best, you should consider NordVPN.
ExpressVPN is based in British Virgin Island, again outside of 14 eyes countries.
If you are looking for a decent experience at an affordable price, PrivateInternetAccess will be your best choice. I'm using PIA for different purposes for more than 5 years now on my Windows computer.
If you are new to VPN and want to start with paid VPN services, PIA will be your best choice. Once you have better know-how about VPN, you can switch to other VPN providers of your choice.
You can start with ProtonVPN to get the feel of what VPN is all about. ProtonVPN comes with a free tier. It will help with the first-time-user experience. With a free plan, you will have restrictions on speed, the number of servers, and server locations.
You should know that free plan for the "test-and-try" purpose only, you will actually not be able to use it for your everyday work, because the speed of the internet will be very slow on the free plans.
ProtonVPN comes from the ProtonMail family. Because it is very new in the VPN field, they have less number of servers compared to the competition. being new is also the reason for them to provide a free-plan option to attract new customers, otherwise, you will not find any other VPN service provider offering free-tier.
You will get a no-questions-asked 30-days money-back guarantee with all the mentioned VPN service providers.
Word of Caution:
If you are looking for additional privacy from your ISP, on a public Wi-Fi network, or while torrenting files, a VPN may be the solution for you. It keeps your browser activities private and will hide them from your ISP.
Using a VPN will not keep your browsing habits anonymous, nor will it add additional security to non-secure (HTTP) traffic.
If you are looking for anonymity (which is not privacy), you should use the Tor Browser instead of a VPN. Please do not replace good security practices with a VPN service.
Usually, activists and whistleblowers require anonymity. VPN is not the solution for them, as it does not keep them anonymous. Anonymity does not apply to people like you and me.
Does a VPN protect you from your ISP?
YES. 100%.
As soon as you connect your device to the internet and turn on VPN, the only thing known to your ISP is that you are communicating with a VPN server. ISP can identify the VPN provider, but nothing beyond that. Your ISP will have no clue what you are doing on the internet.
So, you bypassed the ISP, but now your VPN service provider knows what you are doing. But, you pay for privacy, so VPN services come with a No-Log policy. Can you trust them? Yes, or else they will be out of business.
You need to be careful while choosing any VPN service provider, especially not the free ones. Otherwise, you will again lose out on privacy. Now the VPN service provider will collect and sell your personal information. It will defeat the whole purpose of using the VPN.
Use the VPN service provider only if you trust them, and that's why we have provided the best recommendation above.
Also, there is another advantage of using the VPN. Because your ISP can not know what you are doing on the internet, they cannot throttle the bandwidth. It's a common practice among ISP to throttle (limit) the bandwidth of your internet connection.
For example, you are downloading a big-size file at a very high speed. It may affect other users' online experience on the same network. Your ISP can limit your data download speed. You can continue downloading, but it may take longer to download the file.
To explain this further, assume that you have a 100 Mbps broadband connection. You are downloading a big file of 2GB in size. The website allows you to download at a speed of 20 Mbps. But, your ISP may further limit it to 5 Mbps speed only.
You might be interested in the following articles to know more about privacy: